Hey guys, I live in Townsville, North Queensland and have a 3 bedroom high set house and we only use the other 2 rooms when family visit so we very seldom go into those rooms. On a hot summer day if we were to go into one of those rooms it is so hot, it literally takes your breath away. So I've done a bit of research and came across the solar powered whirlybirds. Because our north facing roof is covered in solar panels I had the problem with the solar whirlybirds that they had fixed solar panel and would have to be on the east or west side of the roof. Then I found the Solar Whiz had a tilting solar panel so I could mount it on the west side of the roof and tilt the panel up to face north. I have to say the very next day we noticed such a massive difference in the temperature of the whole house and especially in the two bedrooms, I just wish I took a temperature reading before and after. I am so happy with the Solar Whiz I am going to put another one up on the east side before next summer. You have a great product, thank you.
Alan Fowley
(Townsville, North QLD)
"Solar Whiz!, what a difference it has made to our home. At temperatures of 34-38 degrees outside we do not need the air conditioner at all! Even the recent heat wave of 42-48 degrees we only needed the air conditioner on for approximately an hour in the afternoon. The Solar Whiz was so easy to install. Thank you!"
P & JJ Cassidy
(Werris Creek, NSW)
Just wanted to drop a line to say that my Solar Whiz was placed in my roof just in time before the high temperatures hit. I remember on very hot days, I could not sleep at nights in my bedroom because it was ever so warm – but since the installation of the Solar Whiz, the rooms in my house are much cooler and we can actually sleep at night! Thank you and I am considering installing another one."
Shengul & Alp Koyser
(Lalor, Victoria)
The Solar Whiz is a powerful solar roof ventilation system & heat extractor fan that operates completely without electricity. Roof ventilation is ideal for fresh air & home cooling in summer and great for reducing moisture levels and condensation in the roof space in winter. Solar Whiz roof fans have the ability to adapt to different climates and various applications. Its ease of installation and flexible design that suits Australian roofs have all underpinned the success for our solar roof vents.
Solar Whiz roof vents provide simple and effective roof ventilation, with many more benefits for you and your home. Roof vents can additionally reduce condensation, moisture, dust mites and provide asthma management for your family.
How Ventilation Can Cool Your Home
Eliminating the heat build up in your roof space with a roof ventilator reduces the heat load on your ceiling and stops heat from penetrating into your living space. This results in lower internal temperatures and could save you hundreds of dollars on cooling costs by improving the efficiency of your existing air conditioning systems.
Your average whirlybird moves approximately 100 m3/h, so as you can see Solar Whiz roof ventilator moves x7 times to x21 times more air flow capacity.
Solarbiz currently supply three sizes from the Solar Whiz range, indicators below show cubic metres of air per hour moved with each product.
Roof Ventilation Provides Reduced Need for Home Cooling
Roof temperatures throughout most of Australia often reach between 60-70 degrees (C) in the summer months. These high temperatures will – even with good insulation – eventually radiate heat down through the ceiling and increase the internal temperature – resulting in a need for home cooling units, unless adequate roof ventilation is ensured with solar roof vents.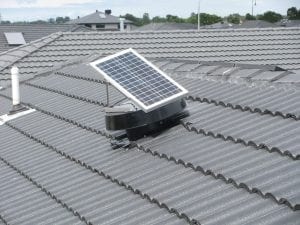 The Solar Whiz extractor fan provides natural ventilation and roof cooling by replacing the hot air with cooler air pulled in through roof vents, under the eaves or other openings to the roof space. This normally enables you to maintain roof temperatures relatively close to the ambient temperature – and as a "flow on" effect reduces the need for alternative home roof ventilation.
Solar Whiz roof ventilation is affordable, whisper quiet and would benefit any home or indoor work environment.
Find out more information about the Solar Whiz roof vent and see the improvements in your own home!